Roger Dean Chevrolet Stadium
4751 Main Street
Jupiter, FL 33458
Ticket Information:
(561) 630-1828 OR (561) 630-1829
Attending a Miami Marlins Game at Roger Dean Chevrolet Stadium
From a March 13, 2023 visit to the stadium.
Just off Interstate 95 in Palm Beach County, through a maze of office buildings, shops and restaurants and townhomes is Roger Dean Chevrolet Stadium, the Florida Spring Training home of the St. Louis Cardinals since 1996 and the Miami Marlins since 2003.
Roger Dean Chevrolet Stadium sits in the heart of the Town of Abacoa. Surrounding the 6,800 seat stadium is Florida Atlantic University, Main Street with shops and restaurants and neighborhoods with townhouses, apartments and condominiums.
Right off Main Street is the Downtown Abacoa Parking Garage that offers free parking.  It's about a five minute walk to the stadium and it's strategically located right behind the Taco Shack. Get to the game early and indulge on food and beverages at the Taco Shack or any of the other nearby establishments like the Civil Society Brewing Company or the Stadium Grill.
Upon entering the stadium, there's no question the facility is all Baseball.  Beginning in February when pitchers and catchers report for the Cardinals and Marlins, through the end of August when the team's Class A Minor League affiliates, the Palm Beach Cardinals and Jupiter Hammerheads are in action, there's baseball just about every day at Roger Dean Chevrolet Stadium.
With its capacity midway nearing 7,000 seats, it's a fan friendly ballpark with excellent sightlines from the 100 and 200 level seats.  Even the 300 level seats in the left field bleachers, are located right behind the home team bullpen.  Teams also enter and exit the stadium from the left field corner for close up views of players.
If you're a fan of watching pitchers warm up in the bullpen before entering the game, Roger Dean Chevrolet Stadium is for you.  Conversations between pitching coaches and pitchers are literally less than 10 feet away from the seats to the bullpen mound.
During a game between the Miami Marlins and New York Mets, a pre-game warmup for the starting pitcher, Braxton Garrett, was right in front of the left field bleachers.  Once he completed his warmup tosses, the rest of the Marlins pitchers gathered around him for high fives and encouragement before he headed to the dugout.
Down the rightfield line, Mets reliever Jimmy Yakabonis warmed up for a late inning appearance, right in front of the two right field seating sections.  Yakabonis pitched 1.1 innings and then returned to the bullpen to discuss his performance with the Mets pitching coach.
Also down the left field and right field lines are plenty of concessions with food and beverages.  Down the left field line is a covered picnic area to enjoy hot dogs and barbeque. In a concourse area, between the grandstand and bleachers, is Guanabanas Tiki Hut, a covered area to enjoy cocktails in lawn chairs.  Down the rightfield line is the covered Cassidy Cool Zone with plenty of fans hanging from the ceiliing, which no doubt comes in handy during the Florida State League games in the heat of the summer.
As is a must a Florida Spring Training Games, pick up a gameday program, which features a full numerical and alphabetical roster insert for both teams.  It offers players with numbers from 1 to 99.  Another interesting aspect of the Marlins Gameday program is the feature articles are translated into Spanish.
Besides the information offered in the Gameday Program, the Roger Dean Chevrolet Stadium centerfield scoreboard is another resource for valuable information about the Cardinals and Marlins.  Not only does it offer the spring training stats for the players at bat, interesting tidbits of information are also available for fans to get to know their favorite players better.
How else would you be able to identify number 86, infielder Nasim Nunez, a 2019 second-round pick by the Marlins, who hustled down the first base line to beat out a double play throw and keep the inning alive.  That hustle no doubt turned some heads of the Marlins coaches, who had no doubt been scouting his progress and saw some potential in the seventh inning of the game.
However, that promise may have faded, as Nunez, who stole 70 bases for two minor league teams in 2022, was caught stealing second base two pitches later.
Who knows? Maybe in four or five years, Nunez will lead the National League in Stolen Bases like Dee Gordon did for the Marlins in 2015 and 2017.
Some more fun for fans at games at Roger Dean Chevrolet Stadium include, the "Dirtiest Car in the Parking Lot," contest sponsored by a local car wash.  The car's license plate number is called out while a photo the car is shown on the scoreboard.  Talk about motivation for a cleaner car.
The Roger Dean Chevrolet Stadium Gift Shop is small in comparison to other parks in the Florida Grapefruit League, but a $130 million renovation, scheduled to begin after the 2023 Spring Training season, will no doubt include an increased square footage for fans to make purchases.  One thing that is offered at the gift shop are packs of Topps Baseball Cards.  For the true baseball fan in attendance, there's nothing like breaking open a pack of cards to see who's included.
Did I get players from my favorite team?  Did I get some rookie cards?  Did I get some specialty cards?  It's one of the many simple pleasures of attending a Florida Spring Training Game during the month of March at Roger Dean Chevrolet Stadium.
Marlins Spring Training Ticket Prices & Information
Single Game Tickets are on sale now. Tickets range in price between $23 and $67.
CLICK HERE for more ticket purchasing dates and information for 2023 Spring Training ticket packages, or call the Roger Dean Chevrolet Stadium ticket office at 561-630-1828.
Visit www.mlb.com/marlins/tickets/spring-training or call (561) 630-1828.
Stadium Information
Roger Dean Chevrolet Stadium was built in 1998. The 2023 season will be the Marlins 21st Spring Training at this location.
Pitchers and Catchers report Thursday, February 16. First Full Squad Workout, Tuesday, February 21.
Parking: $12 in covered lot; $10 for open-air lot with short walk or shuttle to stadium.
Dimensions: 325 feet to right and 335 feet down left field lines 400 feet to centerfield
Seating Capacity: 6,871
Roger Dean Chevrolet Stadium is also the home of the Jupiter Hammerheads, Low-A Southeast League team
Directions to Roger Dean Chevrolet Stadium
Find in Google Maps

From I-95 – Exit at Donald Ross Road (Exit 83); go one mile east to Central Boulevard; make a left at the light and follow Central Boulevard to the circle; from the circle take Main Street to stadium.
From Florida Turnpike – Exit at Jupiter-Indiantown Road (Exit 116) and enter I-95 South; follow directions above for I-95.
Traffic and Road Construction Information from the Florida Department of Transportation
Learn about important traffic and roadway conditions by visiting www.FL511.com. This service reports travel times, road construction, lane closures and more on major Florida roadways.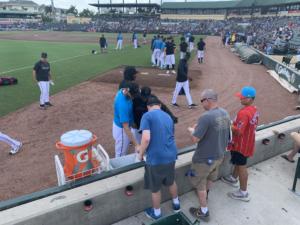 Miami Marlins Florida Spring Training History
1993: Cocoa (Cocoa Expo Stadium)
1994-2002: Viera (Space Coast Stadium)
2003-present: Jupiter (Roger Dean Chevrolet Stadium)
Miami Marlins Spring Training Attendance
(2010-20)
| | | | | | | | | | | | |
| --- | --- | --- | --- | --- | --- | --- | --- | --- | --- | --- | --- |
| | 2010 | 2011 | 2012 | 2013 | 2014 | 2015 | 2016 | 2017 | 2018 | 2019 | 2020* |
| Total Attendance | 72,574 | 70,450 | 126,921 | 65,496 | 60,260 | 70,982 | 88,375 | 61,901 | 56,687 | 49,172 | 34,161 |
| Games | 15 | 16 | 16~ | 15 | 14 | 14 | 14* | 18 | 15 | 14 | 10 |
| Avg. Attendance | 4,838 | 4,403 | 7,935 | 4,366 | 4,304 | 5,070 | 6,313 | 3,439 | 3,779 | 3,512 | 3,416 |
~Includes 2 games @ Marlins Park
Area Information
Palm Beach County Convention & Visitors Bureau (561) 233-3000 or www.thepalmbeaches.com
---
Other Nearby Spring Training Sites
Ballpark of the Palm Beaches, West Palm Beach, Home of the Houston Astros and Washington Nationals
12 miles to the South
Clover Park, Port St. Lucie, Home of the New York Mets
41 miles to the North