Charlotte Sports Park
2300 El Jobean Rd.
Port Charlotte, FL 33948
Ticket Information:
Toll Free (888) FAN-RAYS (326-7297)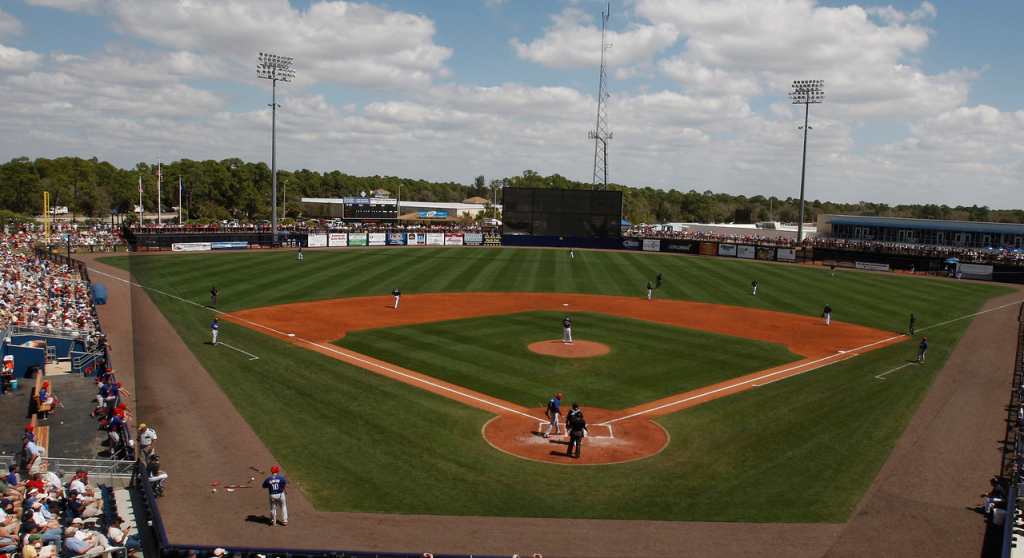 Attending a Rays Game at Charlotte Sports Park
The Charlotte Sports Park has undergone an extensive renovation and is the spring home of the Tampa Bay Rays. The site is located approximately 75 miles south of Tropicana Field in St. Petersburg.
The state-of-the-art facility contains 5,000 fixed seats, and has additional berm seating and party areas. A new suite level and group areas have been added and a unique 360-degree baseball boardwalk rings the stadium. Follow the boardwalk to leftfield and you'll find a Tiki Bar, where fans can sip a cold beverage, catch up with friends and still keep the game in view. Charlotte Sports Park is also a family-friendly ballpark, there is a Kids Clubhouse zone that contains separate play areas for tots and youth, and a concession stand just for kids. The facility is a mode of sustainability, and features an educational green roof and Florida-friendly landscaping.
In addition to spring training games, the facility houses the state-of-the-art Rays training complex, which includes a new clubhouse, five full fields and one-half field. Charlotte Sports Park is also home to extended spring training for the Rays, and the Rays Florida Complex League Team, the FCL Rays.
The renovations to the Charlotte Sports Park were financed by contributions from Charlotte County, the State of Florida and the Rays. While the Rays will have exclusive access during spring training, this facility is truly a park within a park, and the County will use the venue throughout the year for concerts, youth sports, recreation and community events.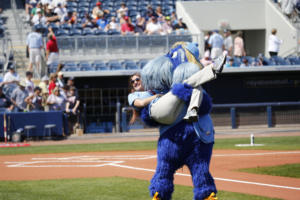 Rays Spring Training Ticket Prices & Information
2023 Rays Spring Training Single-Game Tickets go on sale Friday, January 20 at 10:00 a.m.
For more information about presale opportunities, call 888-FANRAYS, or www.mlb.com/rays/tickets/spring-training
Due to hurricane damages at the Charlotte Sports Park, Tampa Bay will play its February 28th game against the New York Yankees at Disney's Wide World of Sports.  The March 1-26 games will be played at Tropicana Field.
Stadium Information
The Rays will operate their pre-season, big-league camp at the ESPN Wide World of Sports Complex, until March 1.
Pitchers and Catchers report Wednesday, February 15. First Full Squad Workout, Monday, February 20 to Disney's Wide World of Sports where workouts will be held through February 28.
The 2023 season will mark the Rays 15th Spring Training at this location. The stadium was built in 1987 with renovations in 2009.

Parking: $10 per car
Dimensions: 343 to left, 414 feet to centerfield and 343 feet to rightfield.
Seating Capacity: 7,000
Charlotte Sports Park is also the home of the FCL Rays, the Rays Rookie League affiliate."
Directions to Charlotte Sports Park
Find in Google Maps

From the North – Take I-75 South to Exit 179. Turn right onto Toledo Blade Boulevard. Turn right on El Jobean Road. Stadium is on the left.
From the South – Take I-75 North to Exit 170 (Kings Highway), turn left onto Kings Hwy. Turn right onto Veterans Boulevard. Veterans becomes El Jobean Road when it crosses US 41 and the stadium will be on the left.
Traffic and Road Construction Information from the Florida Department of Transportation
Learn about important traffic and roadway conditions by visiting www.FL511.com. This service reports travel times, road construction, lane closures and more on major Florida roadways.
Tampa Bay Rays Florida Spring Training History
1998-2008: St. Petersburg (Progress Energy Park, Home of Al Lang Field)
2009-present: Charlotte Sports Park
Tampa Bay Rays Spring Training Attendance
(2010-20)
| | | | | | | | | | | | |
| --- | --- | --- | --- | --- | --- | --- | --- | --- | --- | --- | --- |
| | 2010 | 2011 | 2012 | 2013 | 2014 | 2015 | 2016 | 2017 | 2018 | 2019 | 2020* |
| Total Attendance | 97,971 | 95,859 | 87,916 | 106,102 | 78,624 | 80,406 | 65,584 | 78,734 | 69,731 | 71,438 | 44,511 |
| Games | 15 | 15 | 16 | 17 | 14 | 14 | 13 | 17 | 15 | 16 | 12 |
| Avg. Attendance | 6,531 | 6,391 | 5,495 | 5,895 | 5,616 | 5,360 | 5,276 | 4,631 | 4,649 | 4,465 | 3,709 |
Area Information
Punta Gorda/Englewood Beach Visitor & Convention Bureau www.PureFlorida.com
---
Other Nearby Spring Training Sites
CoolToday Park, North Port, Home of the Atlanta Braves
12 Miles to the North
Jet Blue Park, Fort Myers, Home of the Boston Red Sox
35 miles to the South
Ed Smith Stadium, Sarasota, Home of the Baltimore Orioles
41 miles to the North
Hammond Stadium, Fort Myers, Home of the Minnesota Twins
50 miles to the South
LECOM Park, Bradenton, Home of the Pittsburgh Pirates
52 miles to the North